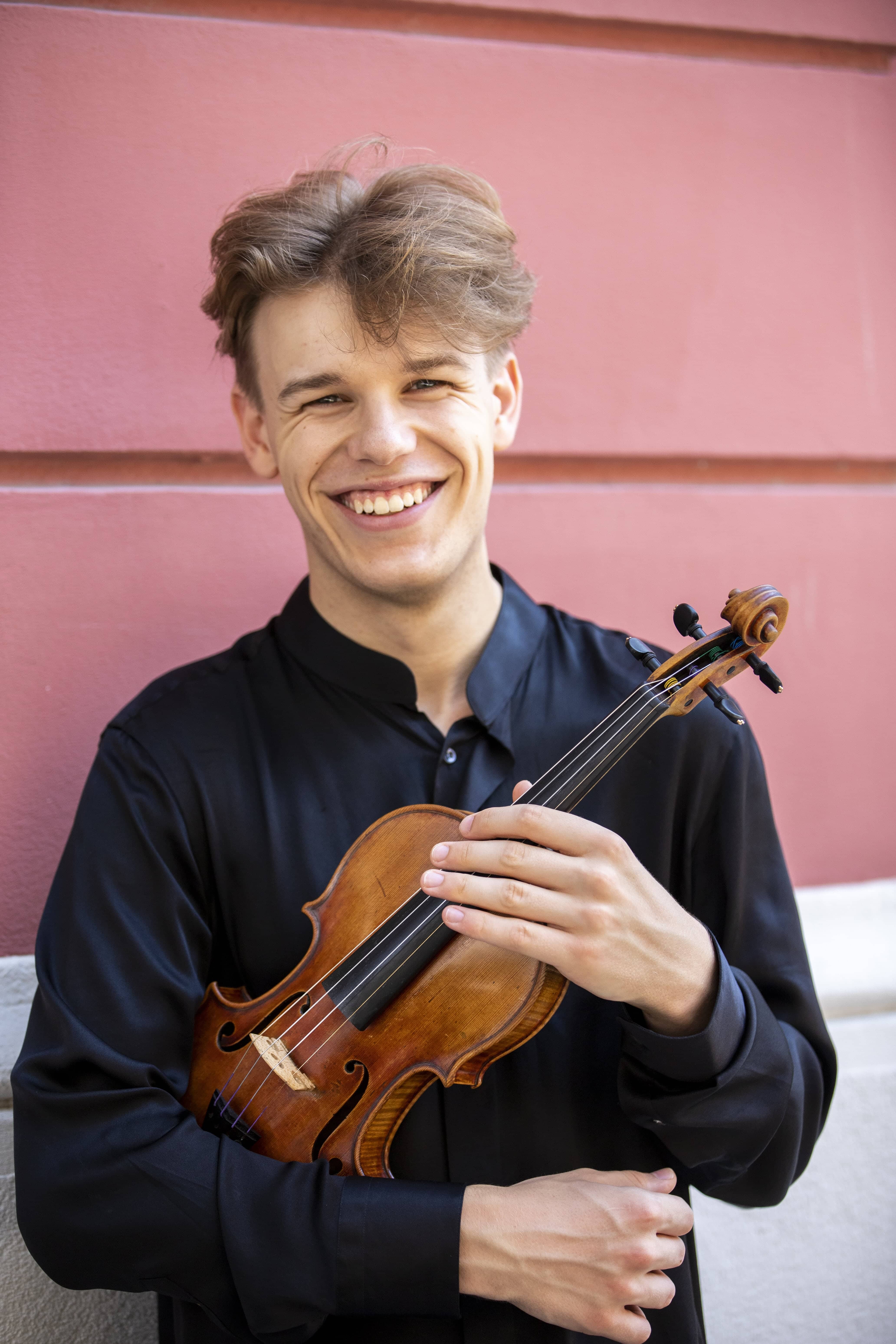 ©Ana Dimitrova


Joel David Munday,
Violine

British violinist Joel David Munday performs internationally as a soloist and chamber musician. He has given concerts in Europe, America and Asia, and the 22/23 season will see his debut performances in Holland, Spain, Bulgaria, Serbia and Germany. While his extensive repertoire incorporates all of the major violin works, he has a particular interest in exploring less-known and contemporary music.
Joel made his concerto debut at age 15, performing Mozart's Sinfonia Concertante in St. Giles Cathedral, Edinburgh. In 2017, he performed Korngold's Violin Concerto with the Royal College of Music Junior Department Symphony Orchestra conducted by Jacques Cohen. The same year he was invited to perform his debut concert at the Wigmore Hall and became a Festival Artist for the Two Moors Festival for which he presented a number of critically acclaimed recitals. He appears regularly as soloist with numerous UK-based symphony and chamber orchestras, and the 22/23 season will see him perform concerti including by Bach's A Minor Violin Concerto, Mozart's Sinfonia Concertante and Brahms' Violin Concerto. He regularly works with acclaimed pianists Julian Trevelyan, Thomas Kelly and Lucas Krupinski, the latter with whom he performed a number of highly successful live-streamed recitals during the Covid-19 pandemic. These were broadcast from the home of Lady Camilla Panufnik to homes around the globe. In 2021, he formed the award-winning 'Adeos Duo' with violist Vanessa Hristova. Mentored by the Marmen Quartet and Maxim Rysanov, the duo are already regularly giving concerts in London and further afield. 
Joel has participated in festivals including IMS Prussia Cove, Encuentro de Santander,  Keshet Eilon, Bowdoin International Music Festival, New Virtuosi Mastercourse, Friend's International Violin Academy, ISA University of Music and Performing Arts Vienna, Erben Geigenbau Masterclasses Munich, and Pila Music Festival Poland. He is a Young Artist of the Stift International Music Festival.
Joel has had the pleasure of being mentored by artists including Vadim Gluzman, Shmuel Ashkenazi, Mihaela Martin, Hagai Shaham, Alina Ibragimova, Marc Bouchkov, Qian Zhou, Chaim Taub, Yuzuko Horigome, Itzhak Rashkovsky, Marienne Piketty, Petru Munteanu, Ilya Kaler, Lewis Kaplan and Joel Smirnoff. 
Joel has won top prizes at numerous international violin competitions, including First Prize and Special 'Sofia Music Weeks' Award at XXV International Competition Dobrich, Bulgaria (2022), Erben Music Festival's Scholarship Prize (2023), Sponsors Award at the Pila Festival, Poland (2021), first prize at the Royal College of Music Concerto Competition (2017), first prize at the Two Moors Festival Young Musician Competition (2016), third prize at Whitgift International Violin Competition (2017) and String Prize at the Gregynog Young Musician Competition (2018). 
Joel initially studied for eight years with Michael Johnson, before being admitted to the Royal College of Music Junior Department in 2016 to study with Professor Ani Schnarch. In July 2022 he graduated his Batchelor degree with First Class Honours at the Royal College of Music, where he continued studies with Professor Schnarch. In September 2022 he commenced a Postgraduate degree at the Royal College of Music, studying with Daniel Rowland. 
Joel plays a violin by the Florian Leonhard, which is kindly on loan from the Royal College of Music and a Stefan Peter Greiner and Mark Jennings violin, kindly on loan from IMS Prussia Cove. He is represented by Mr Roger Hendy, and is grateful for the generous support of Talent Unlimited, the Joanna Leach Foundation, Help Musicians UK, the Dulce Haigh Marshall Trust, the Stephen Bell Charitable Trust, the Kathleen Trust and the Isca Ensemble.